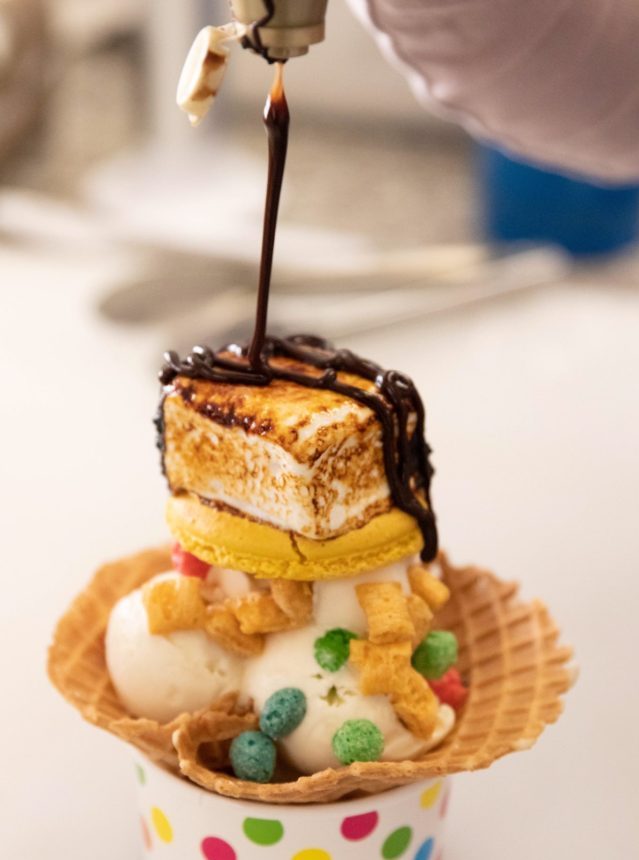 HANDCRAFTED ICE CREAM
Your choice of our gourmet ice cream with a fresh macaron, and topped with a big toasted artisan marshmallow.
Ice Cream Menu
Our handcrafted ice creams are made with all local, natural, organic and quality ingredients with no refined sugars, GMO's, preservatives, artificial flavors, or dyes/colorings.
Come on in and visit us to see our complete flavor selection of ice creams.
We also have a variety of seasonal flavors that rotate weekly.
Our Flavors
Gelato (Gluten-Free):
Banana
Black Walnut Maple
Cherry Swirl
Coffee
Mint Chocolate Chip
Malted Milk Ball
Nutella
Peanut Butter
Sea Salted Caramel
Sweet Cream & Passion Fruit
Vanilla Sweet
Whisky Irish Cream
Gelato (Contain Gluten):
Captain Crunch
Cinnamon Toast Crunch
Cookie & Cream
Fruity Pebble
Sorbet (no dairy):
Chocolate Sorbet
Coconut Passion Fruit Mango Sorbet
Coconut Sorbet
Grapefruit Mint Sorbet
Mango Sorbet
Pineapple Fusion Sorbet
Strawberry Guava Sorbet
Strawberry Sorbet
Scoop Sizes



Kids, Single, Double, Triple
Toppings
Almonds, Oreo, Peanuts, Rainbow Sprinkles, Chocolate Sprinkles, Chocolate Sauce, Caramel, White Chocolate, Butterfingers, Graham Cracker, Chamoy, Toasted Mallows
Macaron Flavors
Caramel, Coconut, Chocolate, Almond, Vanilla, Red Velvet, Fruity Pebbles, Lemon, Strawberry
Drink Menu
Coffee
Espresso
Cappuccino
Americano
Latte (Hot|Cold)
Mocha (Hot|Cold)
Regular Coffee (Hot|Cold)
Affogato
Tea/Other Drinks

Hot Chocolate
Chocolate Milk
Milkshake
Boba Tea
Pastries
Brownie
Blueberry Scone
Apple Galette
Chocolate Cranberry
Cookie
Macaron
Artisan Marshmallow

Interested in Catering? Call Us to Today to find out about some of our great options!
Follow us on Instagram for a behind-the-scenes look into our shop.
Like us on Facebook to keep in touch with us and to see what crazy things we are trying next.
Tweet us on Twitter and share your thoughts with hashtag: #fattydaddys
Scottsdale Location
1608 N Miller Rd, Ste 5
Scottsdale, AZ 85257
602-696-1658
Mon – Thur: 3:00pm – 9:30pm
Fri – Sat: 12:00pm – 11:00pm
Sun: 12:00pm – 9:30pm
Phoenix Location
888 N 1st Ave, Unit 105
Phoenix, AZ 85003
480-768-8021
Sun – Thur: 8:00am – 9:30pm
Fri – Sat: 8:00am – 11:00pm